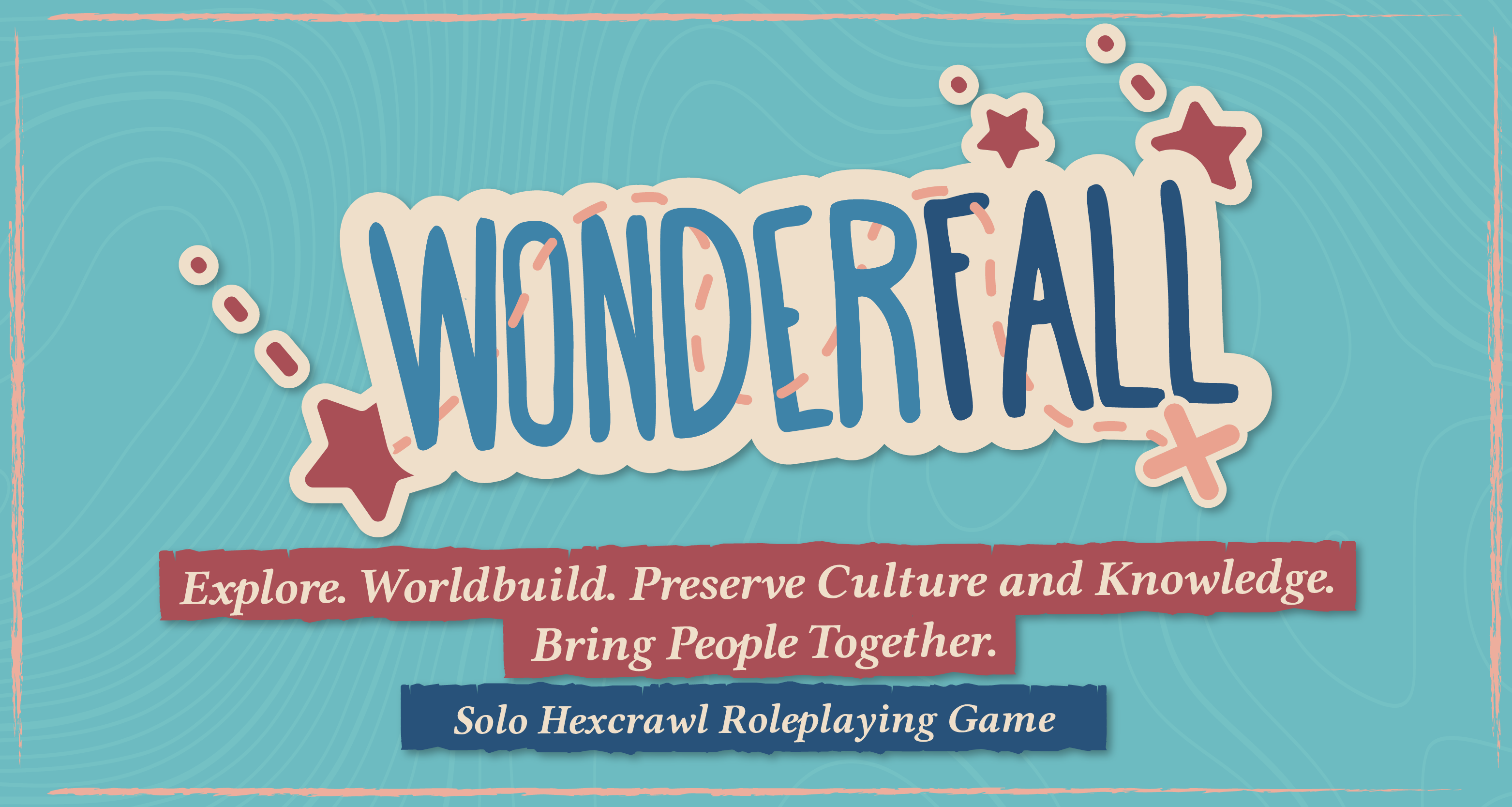 WONDERFALL
Comments
Log in with itch.io to leave a comment.
oh this is very nicely done, I love it.
Do you allow people making hacks of the game?
Oh, heck yeah! (hack yeah...?)
We would love for other designers to have some fun with this framework - cannot wait to see what comes up!
We actually plan on making a few hacks of it ourselves! The more, the merrier - so hack away, friends!
UPDATE HISTORY:


v1.1: Fixed minor typos; uploaded a low ink, printer-friendly version.

v1.2: Updated the sections about play materials and Starting The Game (to include the use of a token to navigate the hexmap).
👀👀 HELLO?? I LOVE THIS???!? I only just bought it and haven't actually played yet, but I am LOVING what I'm reading in the rules. There is a similar game I know of called "6x6 Tales" which has been my favorite game to play while traveling (now I have this game to fill that purpose, too!) - is it perhaps an inspiration? (Both games are great ofc and fill different niches as well; 6x6 has kind of a typical D&D-ish sort of setting while Wonderfall is more cute & uplifting~)
I found what I think is a typo: in the blurb on the cover of the pamphlet, it says "but you are resourceful Wanderer" - it is maybe supposed to say "you are a resourceful Wanderer" or perhaps "you are THE resourceful Wanderer," if we're alone in this endeavor. 😅
And as just one last thing, apologies for being That Person but a printer-friendly black-and-white version of the pages would be splendid. 😊

HELLO?? THANK YOU very much for your kind words and excitement, we're glad you like it that much (hope you like it even more once you get to playing it!!)

We had not heard of "6x6 Tales" before, but with such high praise we're definitely going to check it out ASAP!

You are absolutely right about the typo - it should read "a resourceful Wanderer" indeed, we've uptaded the PDF to fix it! Good eye and thanks for the heads up!

And honestly, we are also That Person. The printer-friendly version has been uploaded and is ready for printing!

Happy journeys and let us know what sort of adventures you get yourself into! :)